In the deep dark forest lies a secret so grave that no living being would dare speak of it.
Every Halloween, it awakens to haunt any human who just happens to take a midnight stroll in the woods. A sudden gust of wind, a distant howling, a screeching sound unhinge the mind of a hapless wanderer as he crosses paths with the supernatural. It's not long before werewolves, ghosts, vampires and witches emerge from the other side for a night of bloodthirsty debauchery, ready to claim their next pray…
For horror fans and thrill seekers, we have rounded up twelve deliciously creepy Halloween reads that will bring out your worst fears.
The Viy by Nikolai Gogol
This short story, often classified as horror, features a bumbling main character who comes to a sticky end at the hands of a bloodsucking witch and a horde of other demonic creatures.
At the start of the story, three seminary students from Kyiv's Bratsky Monastery set off for home on their summer vacation. As they veer off the main road, they come across a remote farmstead where an old woman reluctantly lets them in. Khoma Brut, our main hero is put into an empty sheep pen and is just about to drop into a dead sleep when the old woman enters and all the fun begins.
Gogol's language is very rich and colourful and he has a particular gift for treating his characters with so much humour that even though most of the story happens in a dark church at night with the hero under attack by a dead body and other unpleasant things, it reads as a comedy.
Read it Free Here
Buy it on Amazon
Listen via Audible
The Autopsy by Michael Shea
"The Autopsy" is one of several tales that mingles gruesomeness and science fiction."The Angel of Death" exhibits the battle of two alien entities as they successively inhabit human beings in their quest for supremacy.
Shea's sensitivity to the downtrodden is exhibited in such tales as "The Horror on the #33," "Water of Life," and "Tollbooth," populated by homeless people, prostitutes, drug dealers, and other disdained members of society. As a bonus, two unpublished stories are included: "Feeding Spiders," evoking the work of a writer who adopted California as his home and "Ghost," where a vengeful ghost stalks the tough streets of South Boston.
Michael Shea was the author of dozens of novels and tales of horror, fantasy, and science fiction. This book shows why his vibrant work deserves to live in the hearts and minds of weird fiction devotees.
Buy it on Amazon
Vikram and the Vampire by Sir Richard F. Burton
"This truncated collection of eleven Hindu fairy tales (the original had 25) are put into the mouth of a Baital, which is a non-Western vampire spirit who inhabits the body of a dead person. Neither the story nor the framework are primarily horror; the storyteller has been captured and earns his temporary freedom by tricking his listener (King Vickram) into answering a difficult question posed by each story told. Oddly enough there was always a lesson of wisdom or morals hidden in each tale."-Mitch
Read it Free Here
Buy it on Amazon
Cabal by Clive Barker
"After being convinced by his psychiatrist that he is responsible for a whole host of murders, Boone flees to the semi-fantastical Midian, a crypt inhabited by shape-shifting monsters who call themselves the Nightbreed.
A community of peaceful "monsters" who have moved to Midian as a consequence of the fear they instilled in those who didn't understand what they were. A group of people or "monsters" who are persecuted for their unconventional lifestyle. It becomes even more poignant when the humans in the story turn out to be more evil and destructive than the actual monsters themselves.
Overall, Cabal is a really solid book, a nice blend of horror and fantasy with a pinch of romance thrown in."- Johann
Buy it on Amazon
Listen via Audible
To Be Read At Dusk by Charles Dickens
Looking for some ghost stories that will keep you up all night? Then you are in for a treat! In this spooky collection of paranormal accounts, the master of human psychology tugs at different strings of fear you never knew existed unnerving the reader with each supernatural stroke.
A trip to the Swiss Alps goes horribly wrong when narrator finds himself in the company of five couriers who decide to entertain the newcomer with some horror folklore. From a young bride stalked by a cadaverous creature to a sinistrous brotherly promise to visit each other from the grave, these ghoulish yarns are best enjoyed after dark.
Read it Free Here
Buy it on Amazon
Listen via Audible
Vassa in the Night by Sarah Porter
In Vassa's neighborhood, where she lives with her stepmother and bickering stepsisters, one might stumble onto magic, but stumbling away again could become an issue. Babs Yagg, the owner of the local convenience store, has a policy of beheading shoplifters—and sometimes innocent shoppers as well. So when Vassa's stepsister sends her out for light bulbs in the middle of night, she knows it could easily become a suicide mission.
But Vassa has a bit of luck hidden in her pocket, a gift from her dead mother. Erg is a tough-talking wooden doll with sticky fingers, a bottomless stomach, and a ferocious cunning. With Erg's help, Vassa just might be able to break the witch's curse and free her Brooklyn neighborhood. But Babs won't be playing fair…
Buy it on Amazon
Listen via Audible
Weird Stories by Charlotte Riddell
"This collection of six Victorian ghost stories fits into the gothic category with rambling old houses, recalcitrant furniture and apparitions. It isn't always a house that is haunted, in one it is a farm. The hauntings are often linked to past injustices. The ghosts often point and try to correct past wrongs rather than shriek and howl. There are often economic issues at stake and Riddell points to the futility of both miserliness and overspending. Financial volatility and risk are at the centre of a number of the tales. For many Victorian readers, uncertain finances were as scary as the ghosts and Riddell weaves the two together."-Paul
Buy it on Amazon
Her Body and Other Parties by Carmen Maria Machado
In this electric and provocative debut, Machado bends genre to shape startling narratives that map the realities of women's lives and the violence visited upon their bodies.
A wife refuses her husband's entreaties to remove the green ribbon from around her neck. A woman recounts her sexual encounters as a plague slowly consumes humanity. A salesclerk in a mall makes a horrifying discovery within the seams of the store's prom dresses. One woman's surgery-induced weight loss results in an unwanted houseguest. And in the bravura novella "Especially Heinous," Machado generates a phantasmagoric police procedural full of doppelgängers, ghosts, and girls with bells for eyes.

Earthy and otherworldly, antic and sexy, queer and caustic, comic and deadly serious, Her Body and Other Parties swings from horrific violence to the most exquisite sentiment.
Buy it on Amazon
Listen via Audible
Wagner the Wehr-Wolf by G. W. M. Reynolds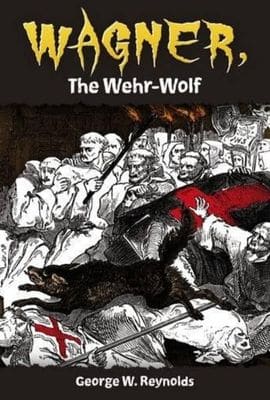 "Wagner the werewolf is the compiled exploits of Fernand Wagner,a lonely, bitter old man who is visited on a dark and stormy night by Dr Faust. Faust offers him renewed youth, a heightened intellect and unlimited wealth if he agrees to become a werewolf and accompany him for 18 months. Wagner agrees, his youth is restored and from that day he becomes a mindless, savage werewolf on the last day of each month. The rest of the story centres around Wagners attempts to find a cure while resisting the Devils offer to cure him in exchange for his immortal soul. During the course of the story he battles bandits, anacondas and endures a turbulent romance with the beautiful but treacherous Nisidia. The story is packed full of murder, treachery, suspense and hidden plots which will leave the reader guessing the fates of the numerous characters until the very end."- Dean Marks
Read it Free Here
The End of Her Honeymoon by Marie Belloc Lowndes
Taut, unsettling and fully immersive, The End of Her Honeymoon comes from the author best known for her Gothic cautionary tale,The Lodger. Unlike its more famous counterpart, this hidden gem shines bright with the eerie sense of foreboding and a twisted mystery waiting to be solved. Inspired by an urban legend, the story revolves around the disappearance of John Dampier on his honeymoon during The Wold Exhibition in Paris. A romantic getaway turns into a living nightmare the moment John and Nancy are forced to spend the night in separate hotel rooms. Bizarre events begin to unfold the next morning, when Nancy discovers that her husband has vanished without a trace. Distraught and confused, the young bride begins her frantic search for some answers, leading her to some dark places and chilling discoveries. How well does she know the man she married?
Read it Free Here
Conjure Wife by Fritz Leiber
"Fritz Leiber's modern horror classic, Conjure Wife is a favorite of mine and I recommend it quite often to hardcore horror and fantasy fans. In this novel, Norman-a small town professor-finds out his wife is a witch. He doesn't really believe in witchcraft and forces her to destroy all of her charms. But it turns out those charms had been protecting him from the malevolent magic of the other faculty wives who want to advance their husband's careers. What happens afterwards makes a great and, at times, incredibly unsettling story."- Evelyn Hall
Buy it on Amazon
Blue Bloods by Melissa de la Cruz
When the Mayflower set sail in 1620, it carried on board the men and women who would shape America: Miles Standish; John Alden; Constance Hopkins. But some among the Pilgrims were not pure of heart; they were not escaping religious persecution. Indeed, they were not even human. They were vampires.
The vampires assimilated quickly into the New World. Rising to levels of enormous power, wealth, and influence, they were the celebrated blue bloods of American society.
The Blue Bloods vowed that their immortal status would remain a closely guarded secret. And they kept that secret for centuries. But now, in New York City, the secret is seeping out.
Buy it on Amazon
Listen via Audible