For many people, Thanksgiving represents a family celebration of life's abundance and unity. While for others, this holiday season might turn out to be anything but peaceful. Old grudges, simmering tensions and long-buried secrets might bubble to the surface turning any lavish dinner into an unsavoury battlefield. One socially acceptable way to avoid this confrontation would be starting a new book. Our selection of multi-generational dramas might offer some insights on navigating family gatherings at Thanksgiving.
Sons and Lovers by D. H. Lawrence
Partially based on the author's life, Sons and Lovers is a compelling story about the clash of generations. Unable to find true happiness in her marriage, Gertrude Morel refocuses her passions on her sons: William and Paul. In search of escape from his mother's suffocating grasp, Paul throws himself into relationships with numerous women, but the fragile equilibrium cannot be restored when maternal love oversteps personal boundaries.
Read it Free Here
Buy it on Amazon
Listen via Audible
The Thorn Birds by Colleen McCullough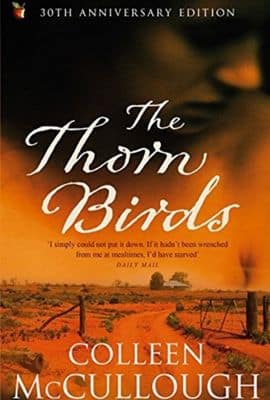 Thepoignant myth of a thorn bird that gives the most beautiful song shortly before its death became an everlasting source of inspiration for this monumental family saga. Spanning three generations, the novel is set against the backdrop of the rugged Australian outback, where resilience and integrity are put to the test. The story follows the triumphs and trials of Maggie Cleary, who, in her desperate search for empathy, grows closer to Father Ralph. When an unlikely friendship between a young woman and a catholic priest blossoms into a hurricane of emotions, the choice between divine duty and earthly love becomes the most excruciating dilemma any human can face.
Buy it on Amazon
Listen via Audible
Lady Susan by Jane Austen
A less well-known novel by Jane Austen is written in the form of a series of letters giving an authentic edge to the story. Lady Susan Vernon's determination to secure an advantageous marriage for herself contrasts with her intentions to marry off her teenage daughter. A woman with no conscience, Lady Susan is unstoppable in pursuit of her own happiness and, at the same time, attempts to manipulate her daughter into a potentially disastrous match. The novel beautifully intertwines Regency manners and morals expressed through witty characters and remains, arguably, the most charming novel of the 19th century.
Read it Free Here
Buy it on Amazon
Listen via Audible
The Dutch House by Ann Patchett
"Exceptionally well crafted American family saga in which a sumptuous house, built by a Dutch couple, is a character in its own right. After Danny and Maeve's mother leaves their father he remarries. Andrea has two young daughters of her own. and is the epitome of a bad stepmother. She resents her stepchildren to the extent that when their father dies unexpectedly she throws them out. During the ensuing years they go back to the house, sitting outside and watching from their car but never once do they venture inside.
The story is told in two timelines from Danny's point of view and the only flaw in the book is that sometimes the switch although sometimes seamless, is hard to follow. The characters are superbly drawn and the plotting leaves no loose ends"- L.Grant
Buy it on Amazon
Listen via Audible
The Forsyth Saga by John Galsworthy
"If you are looking to embark on a wonderful journey into the heart of middle class Brits at turn of the 20th century, then look no further. In an epic saga of a single extended family which spans several generations, Galsworthy creates characters that are human and fallible, noble, kind and cruel. The story is deeply moving, funny, infuriating and completely compelling. This is a huge work, but, as with all great novels, the better it is, the more you want it to continue on and on."- Bekka
Read it Free Here
Listen via Audible
Pachinko by Min Jin Lee
In the early 1900s, teenaged Sunja, the adored daughter of a crippled fisherman, falls for a wealthy stranger at the seashore near her home in Korea. He promises her the world, but when she discovers she is pregnant — and that her lover is married — she refuses to be bought. Instead, she accepts an offer of marriage from a gentle, sickly minister passing through on his way to Japan. But her decision to abandon her home, and to reject her son's powerful father, sets off a dramatic saga that will echo down through the generations.
Buy it on Amazon
Listen via Audible
Little Women by Louisa May Alcott
Ever since its publication, this literary gem has inspired generations of family stories. Set in a New England community, this novel tells a story of jealousy, pride, patience and sorrow. Civil war has taken its toll on the March sisters who have to cope with their Father's absence. Practical Meg, outspoken and tomboyish Jo, sweet-natured Beth and artistic Amy support their Marmee by taking over extra responsibilities. Despite poverty, Beth's illness and worries over their Father's safety the sisters manage to maintain their high spirits and zest for life.
Read it Free Here
Buy it on Amazon
Listen via Audible
The Inheritance of Orquídea Divina by Zoraida Cordova
"Zoraida Cordova's fantastically wondrous, dream-like, and imaginative novel follows in the footsteps of the South American magical realism tradition, set in Ecuador and the U.S. The Montoya family have been summoned to receive their inheritance, to the deathbed of their matriarch, Orquidea, who has not left the protected home at Four Rivers in Ecuador for some time for any reason. However, their curiosity about the family secrets are to be left unsatisfied as a transformed Orquidea departs this life in a manner that surprises.
Years later the descendents lives have changed in different ways, thanks to Orquida, using her talents to bestow surprising benefits. However, there is trouble brewing, the family line is facing dangers and threats, that have the descendants having to overcome their issues, Miramer and Rey with their close connections and Rhiannon travelling back to Ecuador to save the family, to get to the truth- the protective magic and the secrets."- Paromjit
Buy it on Amazon
Listen via Audible
A Thousand of Splendid Suns by Khaled Hosseini
In the land of the scorching sun, devastated by war, lives an Afghan girl who tells her poignant story. The day a fifteen-year-old Laila is pulled out of the rubble is the day she gets a new lease of life when her rescuer offers his hand in marriage. But instead her golden ticket to happiness turns out to be nothing but an invitation to modern day slavery. The notion that women are inferior and subservient to men is proudly manifested by her tyrannical husband on a daily basis, who keeps his wives in the grip of fear through violence and starvation. Even though her marriage brings nothing but disillusionment and despair, you can't help but wonder if salvation is at hand for Laila at the end of the story.
Buy it on Amazon
Listen via Audible
Middlesex by Jeffrey Eugenides
I was born twice: first, as a baby girl, on a remarkably smogless Detroit day of January 1960; and then again, as a teenage boy, in an emergency room near Petoskey, Michigan, in August of l974.
So begins the breathtaking story of Calliope Stephanides and her truly unique family secret, born on the slopes of Mount Olympus and passed on through three generations. Growing up in 70s Michigan, Calliope's special inheritance will turn her into Cal, a transgender narrator of this inter-generational epic of immigrant life in 20th century America.
Buy it on Amazon
Listen via Audible
The Witch Elm by Tana French
"Toby has never worried about anything, a happy-go-lucky guy, sure of his place in the world and casually reliant on his ability to get himself out of hot water should he fall in. Then a vicious attack and a dying stalwart of his childhood change everything…
The Witch Elm is a slow burning literary delight of a novel. Tana French explores themes of memory, identity and how we view ourselves compared to how others view us – and how we are changed by circumstance and event. The Ivy House, very much a character in its own right sets the scene as a horrifying discovery leaves Toby questioning all his memories of an idyllic childhood spent in the company of his cousins…and how well he really knows them at their heart.
The author weaves an intricate web of time, place and person- through Toby's experiences, his recovery, his slow understanding of what is going on around him, she makes you feel every moment. It is a haunting, fascinating reading."- L. Barnsley
Buy it on Amazon
Listen via Audible
And The Mountains Echoed by Khaled Hosseini
Complex, interweaving, always poignant, and often heartbreaking, the novel is prefaced by a story that establishes a perpetually bittersweet undercurrent and it shares the same central theme of family and friendship that Hosseini's previous novels are known for, yet the myriad of stories he includes here makes these themes seem much weightier by comparison. Set in Afghanistan, America, and France and spanning more than 50 years, the novel takes the reader into character's private hopes, dreams, joys, regrets, and pain, and the six degrees of separation between them all. Hosseini described it as "revolving around brothers and sisters, and the ways in which they love, wound, betray, honour, and sacrifice for each other."- C Schell
Buy it on Amazon
Listen via Audible