The latest return of the 1990s drama series "Twin Peaks" to small screens has ruffled some feathers and has sparked our interest in little-known true stories behind famous novels and movies. From terrifying horror to endearing romance, these 8 baffling stories are far stranger than fiction.
Twin Peaks (TV Series 1990-1991)
Fiction
Addicted to black coffee and even darker mystery, FBI agent Dale Cooper arrives in Twin Peaks to solve a puzzling murder of a seemingly virtuous homecoming queen. However, the investigation takes un expected turn, when the sordid secrets of the logging town come to the surface. As eerie apparitions and messages from the other side begin to haunt the agent, Cooper finds himself caught up in the world of shadows more terrifying than his wildest dreams.
True Story
David Lynch's famous "dream logic" is universally praised for its ingenuity. However, when it comes to Twin Peaks, it may not be the only creative source that fuelled this cult phenomenon. Some claim that the mystery surrounding the real-life murder of Nancy Easton in a small village of Twin Peaks might have touched young David and has occupied his mind ever since. One cold night in March, the fire brigade arrived at the Easton's house which was engulfed in flames, where a body of a young woman was found. The autopsy later revealed that Nancy had intercourse prior to her death and was stabbed in the chest. Other disturbing parallels include a similar personality and key events in the murder case. Easton was described as a "pretty, popular and promiscuous" girl who "hitchhiked home after the party and was dropped safely at home by a blue Volkswagen" on the night of her death. The real 1974 killing of Nancy Easton remains unsolved to this day.
Buy it on Amazon
Murder on the Orient Express by Agatha Christie
Fiction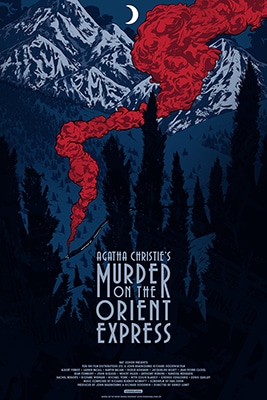 One of the best-known gems in Agatha Christie's collection of crime stories, this novel presents a mind-boggling case to be solved aboard a luxurious train travelling across Europe. When the snowstorm stops the Orient Express in its tracks, the passengers start to fear for their safety. However, they soon find that the bitter cold might be the least of their worries, when one of their travel companions is stabbed to death. This extraordinary crime intrigues the Belgian detective, who promptly launches his own investigation. Capitalising on adverse weather conditions, Hercule Poirot makes the most of his captive audience by juggling the clues and the interviews with the most eccentric suspects.
True Story
One of the most astonishing crime stories was conceived during Agatha Christie's train journey in 1932. A few months later, the shocking news of a high-profile abduction case reached British shores. When a 20-month-old son and heir of American aviator Charles Lindbergh, went missing from his mansion in New Jersey, a ransom note demanding $50,000 was found. In his attempts to bring criminals to justice, Lindbergh marked the bills prior to the exchange. Sadly, the body of little Charles was discovered two months later in a shallow grave within a few miles from his family home. Perhaps the most heart-wrenching detail of this gruesome case was the cause of death- two heavy blows fractured the baby's skull. Deeply moved by the case, Agatha Christie created a story avenging the sudden departure of the world's most famous baby through her characters.
Buy it on Amazon
Listen via Audible
Frankenstein by Mary Shelley
Fiction
If this classic tale was not part of your school curriculum, you are in for a treat! The story told by Victor Von Frankenstein, a young and talented scientist, about the 'monster' he created from dead flesh in an unorthodox experiment leaves the readers in dismay. The fiend shows no mercy when he terrorises and murders Victor's nearest and dearest. One of Mary Shelley's most renowned novels, Frankenstein, has proven to be relevant even after 200 years since its publication.
True Story
For a nineteen-year-old aspiring writer a summer vacation in Lord Byron's villa in Switzerland could not be more stimulating. During one of those long summer nights, a ghost story competition ignited Shelley's imagination putting a vital spark into her new novel. Greatly influenced by the works of four scientists of the era, the author created her own mad scientist, Dr Victor Frankenstein. Italian physicist, Luigi Galvini, best known for his bioelectric experiments on frogs, proved that electric currents can cause the frog's muscles move after death. A few years later, his nephew Giovanni Aldini, became famous for reanimating human limbs post-mortem. Capitalising on previous experiments, Scottish surgeon Andrew Ure claimed that electric current can reanimate a corpse. However, Johann Konrad Dippel made the most impact on the impressionable young author. In his pursuits for elixir of life, he was testing his concoctions on bodies stolen from the graveyard at Castle Frankenstein.
Buy it on Amazon
Listen via Audible
The Shining by Stephen King
Fiction
For Jack Torrance, a recovering alcoholic and a struggling writer, a new position at the Overlook Hotel offers a fresh start. Having an entire mansion at his disposal, an off-season caretaker is presented with a perfect opportunity to finish his novel and spend some time with his family. However, at the first sign of winter chill, a seemingly tranquil place turns into a frightening trap where malevolent spirits begin to unhinge Jack's mind turning him into a murderous maniac.
True Story
If these walls could talk, they'd tell a ghost story. One that twisted, turned and grew equal parts more sinister and messier with each new chapter. The Stanley Hotel opened its doors for the first time at the turn of the twentieth century. Nestled in the Rocky Mountain wilderness, the hotel quickly became one of the most popular resorts thanks to its cutting-edge facilities. Yet, for Stephen King, one night spent at Estes Park in 1974 turned into a ghastly nightmare. Two decades later, the writer shared his troublesome experience with the press: "That night I dreamed of my three-year-old son running through the corridors, looking back over his shoulder, eyes wide, screaming. He was being chased by a fire-hose. I woke up with a tremendous jerk, sweating all over, within an inch of falling out of bed. I got up, lit a cigarette, sat in a chair looking out the window at the Rockies, and by the time the cigarette was done, I had the bones of the book firmly set in my mind."
The hotel's disturbing past should have died in 1909, but instead the gory visions of former residents keep tormenting the guests to this day.
Buy it on Amazon
Listen via Audible
Jaws by Peter Benchley
Fiction
For anyone who has read the novel or watched the movie inspired by Peter Benchley's bestseller, the phobia of deep water is very real. A giant white shark with an exquisite appetite for local produce preys upon innocent people on Amity Island and it's up to the police chief Martin Brody to hunt down and stop the finned menace in its tracks.
This bone-chilling story penetrates the reader's consciousness and spreads its tentacles of fear faster than wildfire. Long before you know it, you will be terrified of even dipping your toes into the sea.
True Story
Those familiar with the story of Jaws may be surprised to learn that the novel may have drawn inspiration from a series of shark attacks in New Jersey in 1916. Despite the author's dismissal of similarities between the real-life events and his fictional story as purely coincidental, some resemblances may question the narrative's originality.
A string of horrific attacks was first recorded on the 1st of July 1916. During that summer, an extreme heatwave and polio outbreak sparked a rush to the seaside resorts of the Jersey Shore. Sadly, for a 25-year-old beachgoer a pre-dinner swim proved fatal. Being bitten by a giant shark, he was rescued by a lifeguard, but was later pronounced dead. Another life was claimed five days later, when a 27-year-old hotel employee bled to death after being pulled out of the water. Six days later, the shark was spotted in Matawan Creek, pulling an 11-year-old boy underwater. When a 24-year-old local businessman came to the rescue, his leg and thigh were badly mauled by the sea "beast". Having been rushed to the hospital, he soon died of extensive blood loss. The body of a young boy was recovered two days later. In the wave of hysteria, America pledged to protect their citizens by closing down the beaches on both coasts of the US and organising shark hunts to kill the population of man-eaters.
Buy it on Amazon
Listen via Audible
Psycho by Robert Bloch
Fiction
Published in 1959, Psycho was an instant success, establishing its author as the master of horror genre. The story, which later became the basis for Alfred Hitchcock's thrilling movie of the same name, follows the life of maternally obsessed hotelier Norman Bates. Having lost a fare share of business due to road construction, Norman welcomes every client with open arms. So when a phoenix secretary Mary Crane checks into The Bates Motel, Norman goes the extra mile to please his midnight guest. However, as Norman's precarious mental state drives him down a violent path, Mary is being served something far more sinister than a hot dinner with a smile.
True Story
If there is one serial killer more terrifying than Norman Bates, it's the murderous ghoul Edward Gein, who served as inspiration for infamous novel. Having grown up in the family of a devout Lutheran, shy and withdrawn Edward was full of love and fear for his mother. Being described as "honest and reliable", he particularly enjoyed babysitting for his neighbours. Besides his odd maternal attachment and unhealthy interest in taxidermy, nothing in his character could give away the future psychopath. However, his bizarre inclinations started showing after his mother's death in 1945. Devastated, Ed sealed off the upper floor as a shrine. In 1957, following Ed's arrest on suspicion of homicide, a decapitated body of a missing woman was found hanging from a rafter at Gein's farmhouse. Other shocking discoveries, which baffled even seasoned investigators, included ornaments, household items and clothing made from human skulls and skin. These incriminating trophies revealed necrophilia, murder, cannibalism and other grizzly crimes committed by Edward, who was later found guilty of first-degree murder and spent the rest of his life at the Mendota Mental Health Institute.
Buy it on Amazon
Listen via Audible
Moby Dick by Herman Melville
Fiction
Herman Melville's masterpiece gained its worldwide popularity thanks to its vivid portrayal of a perilous whaling mission to the South Seas. Often referred to as "American Odyssey", this coming-of-age tale follows Captain Ahab and his crew aboard the whaling ship Pequod. For Ahab, who has lost a leg to an 80ft sea monster, his unquenched thirst for revenge turns into a deadly obsession. The quest comes to a tragic end after the ship is attacked and destroyed by a 'gliding great demon of the seas'.
True Story
The most famous sea story in American literature was loosely inspired by one of the most devastating maritime disasters of the 19th century. When the New England ship Essex left the harbour of Nantucket, no one anticipated that a two-year voyage would turn out to be their last. Just two days into the journey, the ship's collision with a squall cost her two whaleboats and a topgallant sail, becoming the first in a string of misfortunes. Underestimating the full extent of damage, Captain Pollard continued his expedition. In October 1820, in order to restock food supplies, the whaling vessel anchored at Charles Island. What followed next can only be described as the most horrifying man-made disasters ever recorded. In the height of the dry season, the entire island was set alight as a result of a careless prank. This unsettling event led to the extinction of some species on the island. One month later, Essex was rammed and sunk by a vengeful sperm whale in an unprovoked attack. Stranded in the open ocean, the sailors were forced to survive in three leaking boats, succumbing to hunger, insanity and extreme weather conditions. Reaching the depths of despair, they resorted to drastic measures by cannibalising their dead mates. After ninety days and sleepless nights, five Essex survivors were rescued by American and English whale ships. Three other crew members were picked up from Henderson Island, where they had spent four months. Despite their excruciating ordeal, all eight went to sea again within months of their return to Nantucket.
Read it Free Here
Buy it on Amazon
Listen via Audible
Rope (TV Movie 1939)
Fiction
Based on Patrick Hamilton's stage play, Rope became one of the most spectacular adaptations thanks to giving the illusion of "real time". Directed by Alfred Hitchcock, this film noir thriller offers a glimpse into an intricate nature of a crime committed by two young men, who strangle their former classmate from Harvard University. Driven by bizarre aversions and superiority complex, they devise a "perfect" murder by inviting the deceased's nearest and dearest to a dinner party. Soon, this diabolically twisted game spins out of control, as the hosts start serving food off a large antique chest with a hidden body.
True Story
In 1924, Nathan Leopold and Richard Loeb became national nightmare fodder, when their atrocious exploits caught the attention of a variety of newspapers from across the country. Inspired by their murder case, Patrick Hamilton felt compelled to write a play script for his new stage production.
Young prodigies Nathan and Richard met in the summer of 1920. Having graduated from University of Chicago at the age of 15, both young lovers shared narcissistic inclinations and exquisite tastes. Fuelled by their sense of entitlement, their thrill-seeking nature became the driving force behind their crimes. Much to their surprise, the felonies ranging from theft and vandalism to arson, went unnoticed. In their final attempt to attract media attention, the pair started plotting their grand sensation. The plan, which involved kidnapping and killing a wealthy young man, was put in motion on May 21, 1924. That night, young murderers lured Loeb's own cousin and an heir to a manufacturing fortune, 14-year-old Bobby Franks into a rented car, where he died of suffocation and multiple stab wounds. By the time a ransom note reached Franks family, the victim's body had already been recovered from a drainage culvert 20 miles away from his house. Twisted young criminals failed to prove their "ultramen" status, when their amateur mistakes forced the pair to confess to this brutal crime.
Buy it on Amazon

Stella
Stella is a Marketing Consultant and has been writing content for Full Text Archive since 2015. When she is not writing, she is meticulously planning our social and e-mail campaigns. Stella holds a bachelor's degree in English and Russian Literature, which has provided a broad foundation from which she continues to explore the written world.

She spends her free time reading, visiting old castles and discovering new coffee shops. She can be reached at stella