It is a truth universally acknowledged, that no Christmas is complete without a glass of mulled wine and a slice of winter romance. For those of you, who fancy an escape into a magical world, where sparks fly faster than the snowflakes in a blizzard, we have selected twelve festive romance novels. From contemporary holiday romps to classic regency romance, these tales of love will sweep you off your feet, thawing the most cynical of hearts.
The White Christmas Inn by Colleen Wright
"A New England inn seems like the picture-perfect place to spend the holidays. But when a snowstorm shuts the roads and keeps them all inside, the guests find themselves worrying that this Christmas may not be exactly what they dreamed of.
Molly just needs to keep her head down and finish her latest book, but her writer's block is crippling. The arrival of Marcus, a handsome widower with two young girls, is exactly the distraction she doesn't need.
Hannah was hoping for a picturesque winter wedding, but her plans come crashing down when her fiancé calls everything off. She reconnects with her childhood friend, Luke, when he comes to check on his grandmother before the storm.
Jeanne and Tim don't know how they're going to keep the inn open another year—or how to bridge the distance between them in their marriage. With a flurry of unexpected guests, they'll have to work together to fix all the problems that crop up. But will it be enough to rekindle their relationship?"
Buy it on Amazon
Listen via Audible
Midnight in The Snow by Karen Swan
"Clover, a documentary filmmaker made an award-winning film about a surfer, Cory, whose successful career is cruelly ended by a freak accident. However the accident appears to have been caused by the actions of another surfer, Kit, whose career is ended perhaps as a result of the documentary and the accident. When Clover is asked to do a documentary from the other side, about Kit and his new career as a snowboarder, she takes her film crew to Austria to meet with a reluctant Kit who is unwilling to trust her or open up to her about what happened.
The burgeoning tension between Clover and Kit is so enticing and neither of them are prepared for the passion that results. This builds so poignantly that it is hard to see how either of them will be able to get past the accident that injured Cory.
With the snowy location this story felt wonderfully festive, even though the festivities were not the focus of the story. A fabulous book to curl up with a blanket, a fire, and a hot drink."- Bookmodjo
Buy it on Amazon
Listen via Audible
The Night Before Christmas by Nikolai Gogol
Written in 1831, this uproarious tale tells of the blacksmith Vakula's battle with the devil, who has stolen the moon and hidden it in his pocket, allowing him to wreak havoc on the village of Dikanka. Both the devil and Vakula are in love with Oksana, the most beautiful girl in Dikanka. Vakula is determined to win her over; the devil, equally determined, unleashes a snowstorm to thwart Vakula's efforts. Zany and mischievous, and drawing inspiration from the folk tales of Gogol's far-flung village in Ukraine, The Night Before Christmas is the basis for many movie and opera adaptations, and is still read aloud to children on Christmas Eve in Ukraine and Russia.
Buy it on Amazon
Listen via Audible
Under the Greenwood Tree by Thomas Hardy
"For a work as gentle and serene as Under the Greenwood Tree Hardy opts for an appropriately minor feature of traditional social life – the musicians and singers of a parish choir. At the centre of the novel Hardy explores a very innocent and simple romance between two characters – Dick Dewy and Fancy Day, who, unlike other Hardy characters are not blighted by deep psychological problems, although issues do crop up in their blossoming relationship now and again. Fancy's father Geoffrey Day objects to Dick Dewy as a suitor to his daughter on grounds of class expectations and education, and he is hoping to attract a well-to-do middle class husband for his daughter. Dick Dewy is seen by Mr Day as merely the son of a man with a horse and cart business, but Dick is a decent and honest gentleman and always treats Fancy with great affection. There is a predictable turn of events after Fancy accepts vicar Maybold's proposal of marriage whilst she is still engaged to Dick, but then rescinds the decision the following day, resulting in a satisfying finale."- S. Godin
Read it Free Here
Buy it on Amazon
Listen via Audible
A Christmas Promise by Mary Balogh
Eleanor Transome found her father's wealth a dubious blessing, for he was determined that she wed a nobleman. Lord Randolph Falloden, on the brink of ruin, could not resist the lure of cold cash, despite his passionate alliances with several other desirable maidens. And though her heart belonged to the handsome, if humble, Mr. Wilfred Ellis, Eleanor would never deny her father's wishes. Thus the match was made–with love not part of the bargain–for the arrogant earl and the coal merchant's proud daughter. But in this season of unexpected gifts, a most remarkable surprise was in store for them both….
Buy it on Amazon
Listen via Audible
The Holly-Tree Inn by Charles Dickens
"The Holly-Tree Inn" is the 1855 Christmas issue of Charles Dickens' periodical "Household Words.", which contains is a collection of stories arranged with a framing story about a traveler caught in a December blizzard. He must spend time at the inn until it is safe to travel again.
In Dickens' framing story, "The Guest," the traveler thinks back about other inns he has visited, as well as some scary stories set in inns. He decides to ask other people at the Holly-Tree Inn to share some stories to pass the time.
"The Bill" concludes the series of Christmas stories as the guest is leaving the inn. He gets some good news regarding his personal life as he's departing. We feel his happiness as an extra measure of holiday cheer.
The stories were a mixed bag of fairly enjoyable works. People in Dickens' era would read the stories aloud to each other since many people were illiterate. Reading Dickens' Christmas issue would be an entertaining way to spend a few evenings around the fire during the 1855 holiday season."- Connie G.
Read it Free Here
Buy it on Amazon
Listen via Audible
The Christmas Train by David Baldacci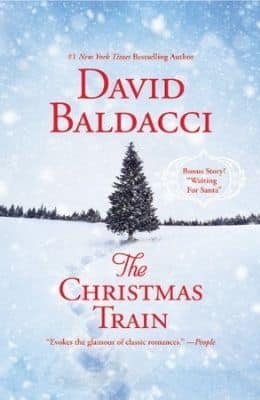 "Billed as a 'Heart-Warming Holiday Tale', the story is centred around a journalist who decides to follow the same railway route that Mark Twain did in 1872 and to record the journey. A 'trip of soul-searching and personal discovery' from the east to the west of the United States. Plus, everyone is trying to get home for Christmas.
Straight away we meet the other passengers, some stereotypes (the star-crossed lovers for one, the aggressive lawyer another) all with their own baggage. There is a down to Earth, plain speaking woman who gives sage advice who could well be an angel. Oh yes, and the love that got away.
Throughout, the parallels with Twain's record are highlighted, which is interesting. The 'mystery' element is an on-board thief who steals such items as a pen, sunglasses, a hairbrush and a money clip. With so many lovely people on board it's hard to guess who the thief might be."- A.J. Sefton
Buy it on Amazon
Listen via Audible
Wildwood Lodge by Jennifer Griffith
"TV personality Jayne Renwick has booked a stunning Wildwood Lodge to host the perfect Christmas activities but when her family doesn't want to join her, she has to come up with another plan to fill the lodge with guests. She decides to place an ad for people that will be spending Christmas alone. Jayne is determined to give them the "Perfect Christmas" – the only problem is that she has only celebrated Christmas once in her life at a friend's house. When one of the guests turns out to be her cold and arrogant co-worker, she believes he is there to destroy her plans."- Nancy
Buy it on Amazon
Beasley's Christmas Party by Booth Tarkington
"This sweet tale of the Midwest opens by introducing us to a young man who has recently come to Wainwright to work on the Morning Despatch as a cub reporter. He has high hopes of interviewing Mr. David Beasley, a well-respected local politician who may have the governorship in his sights. But Mr. Beasley is a quiet, retiring gentleman who doesn't care much for talking and doesn't interview well. Our reporter hero just happens to live next door to Beasley's residence and begins to notice some odd goings-on. Mr. Beasley talks to people who aren't there and holds athletic contests with invisible foes. What's happened to him- has he quietly gone off his rocker?
This is a very sweet and warmhearted story- just right for the Christmas season. There is just a hint of mystery, but the story is primarily a romantic little slice of Midwestern life in the early 20th Century. Nice and short- it is a quick and enjoyable read."- Bev
Read it Free Here
Buy it on Amazon
Emma by Jane Austen
The most notorious matchmaker in Jane Austen's world, Emma Wodhouse is often spotted at the social gatherings rubbing shoulders with the finest specimens of well bred men. Blessed with beauty and charm, this twenty-year-old siren leaves a trail of infatuated suitors wherever she goes. But in spite of being an expert on the intricate workings of human heart, the young cupid burns her fingers on matches gone wrong. Through the veil of coquetry and presumptions, Emma often fails to see past appearances, causing chaos in the lives of others. Fortunately, the universe has a plan. A serendipitous chain of events mends the broken hearts and reunites long lost lovers, while inspiring Emma's personal transformation.
Read it Free Here
Buy it on Amazon
Listen via Audible
One Day in Winter by Shari Low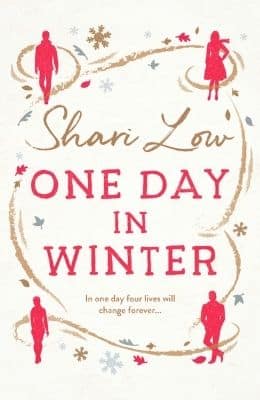 "This novel takes us on a moving journey into the lives of four strangers for one day and introduces us to their thoughts, feelings, motivations, fears, and dreams and highlights just how small the world truly is and how quickly strangers can become friends and friends can become strangers.
The writing is expressive, amusing, and effortless. The characterization is spot on with a whole slew of characters that are genuine, multi-layered, intriguing and unique. And the plot is a series of compelling subplots that are skillfully unravelled and intertwined to create an unforgettable, heartfelt, humorous story about life, love, loss, family, adultery, deception, lies, friendship, romance, and happiness."- Zoe
Buy it on Amazon
Listen via Audible
A Doll's House by Henrik Ibsen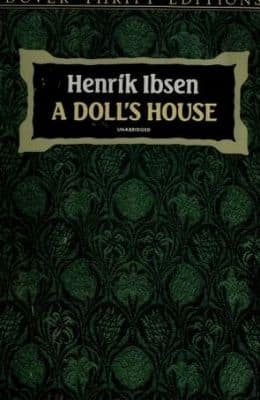 "Set over a Christmas it emerges that Nora has been keeping a very large secret from her husband Torvald. But as events start to pan out she has to tell her friend Christine, what she has done. Fearing for her husband's health Nora managed to get a loan, but how she got it wasn't strictly honest. With the man she got the loan from likely to lose his job he has come to Nora with intent to blackmail. As the play unfurls we see how what at the beginning looks like a normal happy marriage isn't really so. As layers are drawn back we see that there are some problems here."- M Dowden
Read it Free Here
Buy it on Amazon
Listen via Audible