Have you ever imagined what your Thanksgiving would be like if your favourite book character joined you for dinner? If you are as excited as we are about the prospect of hosting a party with a bookish twist, then we have ten excellent candidates to join you at the table. With so many tricks up their sleeves, they will deliver first-class entertainment to you on a silver platter.
Jay Gatsby (The Great Gatsby by F. Scott Fitzgerald)
His lavish parties and extravagant lifestyle became legendary among the crème de la crème of Long Island society. Fuelled by the promise of the American Dream, Gatsby's rise from rags to riches brought him closer to his old flame, Daisy Buchanan. But a cruel twist of fate crushed any hopes of everlasting happiness when the torrid romance ended in tragedy. With a dazzling smile and unbeatable charisma, this dashing young man will bring the Roaring Twenties to life, turning your humble gathering into the best party in town.
Added bonus: A man with a Midas touch never shows up empty-handed. You can fully expect the finest champagne money can buy.
Buy it on Amazon
Harry Potter (Harry Potter by J. K. Rowling)
The life of an orphan under the roof of his heartless, earthbound relatives could hardly be described as a picnic until he received a letter that was destined to change his future. From the moment he stepped into the world of magic, Harry Potter discovered that true friends, courage and sacrifice were the only treasure worth having. His bewitching tales from his time at Hogwarts are guaranteed to restore your faith in good triumphing over evil. He might also win brownie points with your guests for offering them to fly his broom.
Added bonus: Harry Potter might sneak in some Polyjuice Potion as a special treat for your in-laws. That would tame the beasts!
Buy it on Amazon
Carmilla (Carmilla by J. Sheridan LeFanu)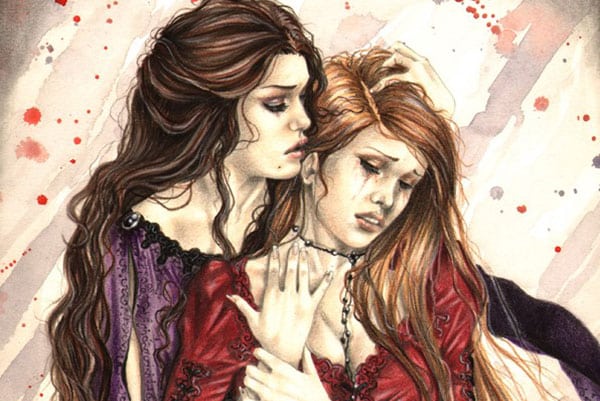 Having stepped out of a Gothic novel, which represents a prelude to all other vampire-based stories written in the 19th century, this belle de nuit prefers late feasts. The centre of a sordid tale of horror, Carmilla is no stranger to seduction and will stop at nothing to satisfy her nocturnal cravings. Having mastered the skill of eloquence, the Countess of Karnstein will spare no charm to enliven the party as long as there is at least one innocent soul at the table.
Added Bonus: As winsome as she may seem, Carmilla might mistake your cousin's neck for a dinner roll, by pure accident, of course!
Read it Free Here
Buy it on Amazon
Oswald Cornelius (My Uncle Oswald by Roald Dahl)
Oswald Cornelius has been called many names by many people- a rapscallion, a fornicator, a scoundrel – just to name a few. This scandalous bon vivant, whose entire existence is dedicated to decadence and dissipation, will be itching to impress your guests with his elaborate scheming and raunchy escapades as he indulges in memories of his youth. Having discovered a source of great wealth, this irresistibly attractive man is not too shy to put his male magnetism to good use!
Added bonus: With his racy stories and plenty of port to go around, Oswald will become an instant hit with your blushing female guests, who will blame it on a spicy sausage casserole, no doubt!
Buy it on Amazon
Robinson Crusoe (Robinson Crusoe by Daniel Defoe)
For Robinson Crusoe, a mariner on a quest to bring slaves from Africa, the ship's collision with a raging storm marked the beginning of his spiritual journey. Washed up on the shore by a shipwreck, the lonely castaway struggled against deprivation and hardship on a small desert island near Trinidad. After several years of isolation, Crusoe might offer your guests a unique glimpse into the soul of an exile in his fight for survival in a dangerous world of tranquility.
Added bonus: A great source of survival tips, Robinson Crusoe will add a touch of a tropical flavour to your Thanksgiving party.
Read it Free Here
Buy it on Amazon
Isabella Thorpe (Northanger Abbey by Jane Austen)
One of the most ambitious characters in Austen's world, Isabella Thorpe represents an ironic caricature of superficiality in Victorian society. On her quest to secure the most advantageous marriage for herself, she has been known to be courted by several gentlemen at the same time. Yet, despite her cunning and self-serving motives, this ravishing villainess will draw upon her inexhaustible fund of sharp humour to keep your guests thoroughly amused this Thanksgiving.
Added bonus: An expert at word games.
Read it Free Here
Buy it on Amazon
Bilbo Baggings (The Hobbit by J. R. R. Tolkien)
Generations of dreamers have enjoyed this tale of a respectable hobbit Bilbo Baggins, who was recruited to steal the most prized possession from the den of a fire-breathing dragon. Accompanied by a dozen dwarves and a wizard, the reluctant hero embarked on a perilous venture through Middle Earth, where his courage and will power were put to the test by a powerful ring and the cruel Smaug the Magnificent. Having been to Hell and back, Bilbo will win over your guests with his whimsical charm and the heart of gold.
Added bonus: Bilbo will not miss an opportunity to pass down a family recipe. So you can fully expect lots of home-baked goodies with a hilarious background story to go with each dish.
Buy it on Amazon
Hercule Poirot (Death on the Nile by Agatha Christie)
Having just stepped off a luxury Nile cruise boat, the famous sleuth will be bursting to share all the sizzling details from his recent trip to Egypt. What was meant to be a relaxing vacation into the heart of ancient civilization turned into a race to stop evil in its tracks when one of the passengers turned up dead. Without giving away too many clues, Hercule Poirot might even put your detective skills to the test by turning his story into an interactive murder investigation, keeping your guests thoroughly entertained throughout the night.
Added bonus: Hercule's "little grey cells" will become indispensable at a wishbone scavenger hunt.
Buy it on Amazon
Gretchen Rubin (The Happiness Project by Gretchen Rubin)
Gretchen Rubin had an epiphany one rainy afternoon. "Time is passing, and I'm not focusing enough on the things that really matter", she realised. In that moment, she decided to dedicate a year to her happiness project. In the spirit of Thanksgiving, she will gladly gush over her adventures during the twelve months she spent test-driving the wisdom of the ages, current scientific research and lessons from popular culture about how to be happier.
Added Bonus: Many pearls of wisdom will be brought to the table, all you have to do is find a space for them in your own life.
Buy it on Amazon
The Governess (The Turn of The Screw by Henry James)
A new position at the household of an eligible bachelor provided a much-needed relief for an impoverished governess. Eager to prove her worth to her new employer, the young teacher gladly assumed her responsibilities supervising the upbringing of two siblings. However, a series of spectral events of "uncanny ugliness, horror and pain" had turned her dream job into a ghastly nightmare when she realised that the house was haunted by a beckoning evil. Having experienced first hand the world of ghostly apparitions, the governess will be delighted to share her hair-raising tales of the paranormal with your guests.
Added Bonus: If you play your cards right, your literary guest might even offer a helping hand with children on the day.
Read it Free Here
Buy it on Amazon

Stella
Stella is a Marketing Consultant and has been writing content for Full Text Archive since 2015. When she is not writing, she is meticulously planning our social and e-mail campaigns. Stella holds a bachelor's degree in English and Russian Literature, which has provided a broad foundation from which she continues to explore the written world.

She spends her free time reading, visiting old castles and discovering new coffee shops. She can be reached at stella