If you can't shake off that chilling feeling of something sinister lurking in the shadows as you crunch through the autumn leaves on a midnight stroll, make no mistake —Halloween is just around the corner. For those of you, who hunger for dark venture into the heart of the supernatural, we have concocted one scrumptious Halloween treat. Bristling with witches, vampires and ghostly apparitions, this frightful selection of thirteen horror tales will take you to places beyond your wildest screams.
Interview with a Vampire by Anne Rice
The Old World legends of cadaverous creatures, whose night rampages wreak havoc on the living, have been circulating around the world since Ancient Babylonia. Lacking any remorse or regret, the undead are condemned to live an eternity moving from one kill to the next. However, in this intimate outpouring of the heart, we get to see a different side of evil. For Louis, who has been walking a fine line between humanity and monstrosity for over five hundred years, life is nothing but a curse. Tormented by his bloodlust and the empathy for his victims, he slowly reveals his violent past where lost love, betrayal and isolation all blend in one lacklustre existence.
Published in 1976, this lurid memoir of a sun-dodging villain has laid the foundation for subsequent vampire confessions forming a separate sub genre in literature.
Buy it on Amazon
Practical Magic by Alice Hoffman
It's not unusual for the Owens sisters to endure tongue lashes and whispers behind their backs. After all, witchcraft is in their blood. Following the tragic death of their parents, Sally and Gillian move to Maria's Island to join their supernaturally-blessed aunts. Renowned for their heady concoctions and powerful spells, free-spirited guardians soon help their nieces to discover their own magical gifts. As the adulthood creeps up on the young witches, they go separate ways to forge their own destiny until Gillian's abusive boyfriend turns up dead and buried in their garden. Things take turn for the worse when lover boy rises from the dead to come back with the vengeance. This time it will take more than a flick of the wand to fix this one.
Buy it on Amazon
The Hangman's Daughter by Oliver Pötzsch
A grim discovery of a dead boy pulled from a river sets the town of Schongau on edge. A gruesomely injured body provides no clues except a sorceress's mark on its back, awakening the history of witch mania the good people of Bavaria would rather forget. But as the victim count grows, so does the hysteria engulfing the small town. Soon, the local community enlist the help of a hangman Jakob to investigate this baffling case. Interrogation, intimidation, torture – by whatever means necessary, Jakob Kuisl will stop at nothing to hunt down the monster behind these grisly murders before innocent people are burnt at the stake.
Immaculately researched, this shockingly candid portrayal of the 17th century Germany will make the hairs on your neck stand.
Buy it on Amazon
Shiver by Maggie Stiefvater
Having been rescued by a yellow-eyed wolf, Grace develops a fascination for the creature that lurks in the woods every winter. But when the she meets her 'wolf ' in his human form, she struggles to come to terms with the possibility of losing each other forever. The novel focuses on the fight of young lovers for their chance for happiness where passion, violence and action go hand in hand.
Buy it on Amazon
The Phantom of The Opera by Gaston Leroux
The rumour of a vengeful spectre haunting The Paris Opera House is fuelled by a series of unexplained accidents. Some eyewitnesses claim that the ghostly apparition is nothing but a smokescreen for a man who hides his disfigured face behind a mask. Tormented by the memories of his abusive childhood, Eric excels at channeling his rage into music composed for the theatre by day, terrorising those who have wronged him by night. But everything changes when a young soprano catches the eye of a brooding monster, setting in motion a dangerous plot to win Christine over at any cost. Suspenseful and electrifying, this Gothic tale of obsession will reduce even the most seasoned fans of romance fiction to tears.
Buy it on Amazon
Ghost Stories of an Antiquary by Montague Rhodes James
From 'Lost Hearts' to "Count Magnus', these scary tales are meant to be read aloud on a dark night to create an atmosphere of menace. Subversively witty, every story slowly builds suspense, intensifying the horror through insinuation and implication. Exquisitely crafted, these frightful stories of ghosts, who linger among the living, are guaranteed to leave an indelible impression on you!
Read it Free Here
Buy it on Amazon
The Mortal Immortal by Mary Shelley
From Bram Stoker's Dracula to Twilight saga, the vampire myth has been explored in many novels fuelling the reader's fascination with bloodthirsty creatures for centuries. However, in this beautifully-written story, the creator of Frankenstein offers a different perspective on the subject of immortality. Having taken a love-curing potion in secret from his master alchemist, Winzy learns the shattering truth about the nature of the elixir. The shocking revelation exposes his deep-rooted fears of death, eroding every facet of his life. Three hundred years later, Winzy paints immortality as a soul-killing curse, condemning the human shadows to perdition.
Buy it on Amazon
Pet Sematary by Stephen King
For Dr Creed and his family, relocation to an idyllic town of Ludlow opens a new chapter of their lives. Soon their dreams of peaceful existence are shuttered by a tragedy, claiming the life of the youngest member of the family. However, the serendipitous discovery of supernatural burial grounds gives inconsolable father a glimpse of hope to raise his son from the dead. Chilling and mind-bending, this tale unapologetically pulls at your heartstrings exploiting the fear of death and loss of the child, haunting you long after you have turned the last page.
Buy it on Amazon
The Magpies by Mark Edwards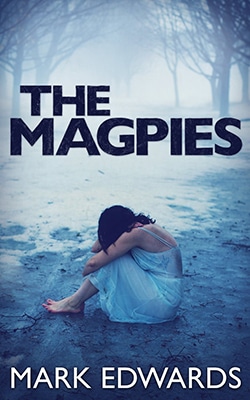 When Jamie and Kirsty move into their new flat, their lives turn into a nightmare. Terrorised by their neighbours who play hoaxes on them, Jamie, Kirsty and their friends find themselves in grave danger. The police can't help, and Jamie starts to question how far he is willing to go to stop their neighbours from hell. Creepy beyond reality!
Buy it on Amazon
Hell House by Richard Matheson
Hired by a dying millionaire to look into the possibility of life after death, four researchers with a strong interest in parapsychology venture into unchartered territory. The investigation brings them to an infamous house in Maine. The story builds up a real sense of apprehension and foreboding – something very bad is going to happen in the Hell's House. The sinister supernatural presence exploits the mediums' personal weaknesses, unhinging their minds and corrupting their souls.
Buy it on Amazon
The Masque of The Red Death by Edgar Allan Poe
Written in the best traditions of Gothic fiction, this subtle, yet profound story is centred around Prince Prospero, who, in order to escape the plague, also known as "Red Death", invites his noble friends to hide in his sprawling abbey. This absorbing tale of terror is enriched with disturbing descriptions of the menacing rooms, bizarre guests and the ebony clock symbolising the forthcoming death. The master of macabre, Poe creates a perfect setting, which helps build up a real sense of apprehension and foreboding, unnerving the reader.
Read it Free Here
Buy it on Amazon
In A Glass Darkly by J. Sheridan Le Fanu
The apogee of Victorian ghostly fiction, the novel represents a collection of five stories, including renowned vampire tale Carmilla focusing on demonic female immortal, who wickedly manipulates all of the virtues expected of women. Sheridan Le Fanu accurately portrays the terrifying sensations felt as supernatural activities cross over into reality. These tales of horror will appeal to anyone who can't get enough of psychological suspense and mystery.
Buy it on Amazon
The Witches of Eastwick by John Updike
Sukie, Jane and Alexandra have been best friends for as long as they can remember-loneliness is what bonds them together. However, their lives, marred by loss, divorce and gossip, turn upside down with the arrival of a mysterious stranger. Dark and broody, the rich mogul causes quite a stir in a close-knit community, whose eccentricity and a devil-may-care attitude soon become the talk of the town. One by one, Daryl charms each woman with his seductive appeal, unleashing their supernatural powers. Unable to resist the influence of their diabolical lover, the witches indulge in mischief, sorcery and promiscuous orgies. But will this twisted love square have a happy ending?
Buy it on Amazon

Stella
Stella is a Marketing Consultant and has been writing content for Full Text Archive since 2015. When she is not writing, she is meticulously planning our social and e-mail campaigns. Stella holds a bachelor's degree in English and Russian Literature, which has provided a broad foundation from which she continues to explore the written world.

She spends her free time reading, visiting old castles and discovering new coffee shops. She can be reached at stella