In the age of The Hunger Games, Twilight and Harry Potter phenomena, it's not surprising that more adults turn to children's books to immerse themselves into an alternate reality. And what better time to resurrect your childhood memories than at the start of the school year? From candid memoirs to spellbinding fantasies, these ten tales of innocence are guaranteed to take you back to your school days.
Nicholas Nickleby by Charles Dickens
Published in 1938, this timeless tale of love, betrayal and redemption portrays the tumultuous life of Nicholas Nickleby. Following his father's untimely death, destitute Nicholas finds himself at the mercy of his ruthless and manipulative uncle. This delicate situation forces the young man to accept the position at an all-male boarding school in Yorkshire. But it's not long before the Dotheboys Hall reveals its ugly side. Cruelty, abuse and humiliation saturate the walls of the institution, which harbours an even darker secret so fiercely guarded by its tyrannical headmaster. Light and absorbing, the story serves up the rich feast of biting social satire and life-affirming comedy, that readers will be too happy to sink their teeth into.
Read it Free Here
Buy it on Amazon
A Separate Peace by John Knowles
Set against the backdrop of the Second World War, this coming-of-age novel represents Gene Forrester's recollection of his early life experiences, switching back and forth between elite boarding school and war trenches. While wandering about the grounds of his alma mater, an old soldier reminisces on the life-altering ripple effect of a single impulsive act that stripped the young student of his innocence. No longer able to keep his haunting memories at bay, Gene is forced to relive the tragic events, exposing the dark side of adolescence. Published in 1959, this heart- wrenching tale catapulted the author to instant fame, retaining its best-seller status for over 30 years.
Buy it on Amazon
Jane Eyre by Charlotte Brontë
Set in the 1830s England, this gothic romance novel has delighted generations of readers with its portrayal of a woman's quest for independence. Upon the graduation from a strict charity school for orphans, Jane secures the position of a governess at Thornfield Hall. Having left behind resentment, hardships and emotional trials, Miss Eyre becomes an advocate for gender equality, tearing apart all misconceptions that her new master so proudly manifests. Jane's refreshing honesty, integrity and sharp mind bewitch Mr Rochester, leaving him no option but to accept the young tutor as his emotional and intellectual equal.
Read it Free Here
Buy it on Amazon
The Lake of Dead Languages by Carol Goodman
"Newly separated Jane Hudson, child in tow, returns to isolated Heart Lake School to teach Latin. Jane is an 'old girl' – a Heart Lake graduate with a remarkable past – both her roommates drowned in the lake their senior year. Jane is the survivor, complete with survivor's guilt and an untold story haunting her life. But once at Heart Lake Jane's past appears to resurface – is she the victim of a cruel hoax or the instigator as her current students seem to toy with suicide?
Goodman has a remarkably smooth novelist's voice – the book glides along much as the skaters on Heart Lake. Her plotting is a little less sure, and the book is best enjoyed in a wonderful marathon read or two. Warning: for the best enjoyment, don't look too deeply beneath the surface!" – L. D. Gardener
Buy it on Amazon
Stalky and Co by Rudyard Kipling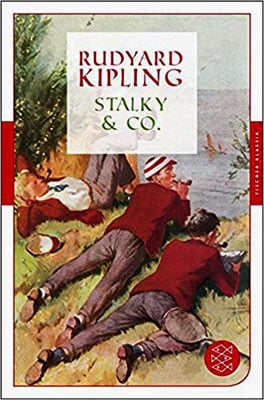 Enriched with cynicism and juvenile jargon, these tales of mischief offer a glimpse into the world of future leaders at a boarding school in the late nineteenth century. Drawing on his personal experiences, Kipling crafts a series of enduring stories of three teenage heroes forming a secret society in their bid to rebel against bullying, violence and other rigours of public school. Guided by their moral codes and ethical values, young daredevils challenge authority baffling even seasoned disciplinarians. This delightful gem will appeal to any British history buff blessed with a good grasp of Latin and a decent sense of humour.
Read it Free Here
Buy it on Amazon
Molesworth by Geoffrey Willians
"This should be required reading for anyone who wants to understand the British class system. Even though the setting is somewhat dated, its depiction of the English Public School and the associated structures is still dangerously accurate, and the jokes are as good as ever. Not to mention the astonishing illustrations which you will never forget. (Searl also created St Trinian's, now better known through the movies, of course.)"- Scurra
Tom Brown's Schooldays by Thomas Hughes
"Tom Brown's schooldays is one of those classics; everyone has heard of it, but probably knows it better from one of the film or TV adaptations. This is shame as the book is very well written and has some wonderful (if a little flowery) images of the English countryside that are often left out to save time. Hughes describes the growth from adolescence to adulthood of a young man from the middle class of English society with great affection and a keen eye. The book illustrates how people thought about the education of young men to fulfill a purpose within society, and I would suggest that many of the views were valid for the next 100 years. I would also suggest that the concept described in the book of giving young people responsibility for the care of younger children, could be a valuable concept in todays society." – Mole
Read it Free Here
Buy it on Amazon
Matilda by Roald Dahl
"Matilda is a lovable protagonist, revered for her mischievous nature and easily sympathized with because of her abusive parents who don't recognize how extraordinary she is. Admittedly, she's a vengeful girl, but that never subtracts from her likability. There's nothing quite like Roald Dahl's flights of fancy. Beloved as a girl and cherishes as an adult, Matilda ranks among the top favorites from his body of work." – Hannah G.
Buy it on Amazon
Norwegian Wood by Haruki Murakami
Inspired by The Beatles's famous song, this coming-of-age memoir invites you to take a trip down memory lane together with Toru Watanabe back to his college years in Japan.
As the memories of his youth come flashing back, Toru reveals a bittersweet story of his first love and his struggles navigating the troubled waters of school, isolation, depression and loss. Murakami's depiction of life on campus is painstakingly realistic, where each student is forced to find their own unique way of dealing with pressures and responsibilities of adult life.
Buy it on Amazon
Harry Potter and The Sorcerer's Stone by J.K. Rowling
In the wizarding world, Harry Potter might be known as the only person to have ever survived a killing curse, but for muggles, he is an outcast, a nuisance and a freak of nature. Neglected and abused, a ten-year-old orphan spends the most of his days in a tiny cupboard under the stairs. But everything changes, when the young boy receives an invitation to attend a highly reputable school of witchcraft and wizardry. For the 'boy who lived', Hogwarts becomes a his true home, seeing Harry flying on a broomstick, forging friendships and even taming magical beasts. From centaurs and ghosts to three-headed dogs, Rowling conjures up a menagerie of magical creatures all playing their crucial part in the development of the plot. Vivid and enjoyable, this magical tale remains an epic tribute to human courage that has touched millions of readers all over the world.
Buy it on Amazon

Stella
Stella is a Marketing Consultant and has been writing content for Full Text Archive since 2015. When she is not writing, she is meticulously planning our social and e-mail campaigns. Stella holds a bachelor's degree in English and Russian Literature, which has provided a broad foundation from which she continues to explore the written world.

She spends her free time reading, visiting old castles and discovering new coffee shops. She can be reached at stella