It's not just books that make great gifts for book-lovers. These amusing gifts are loaded with literary references.
Tea at Wuthering Heights Necklace – Literary Necklace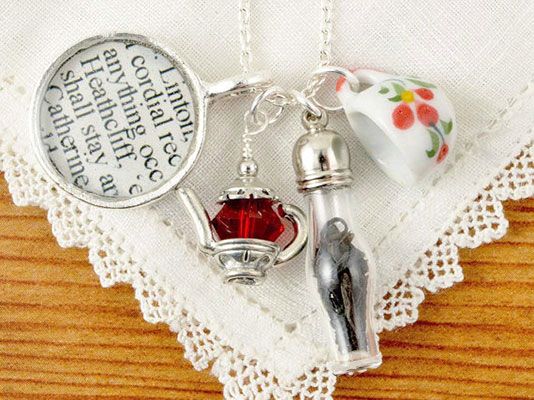 Not only does this quirky necklace come with everything you need to have a proper English Tea at Wuthering Heights, but it can also be personalised, offering an extensive choice of teapots and teacups. A unique gift in every sense of the word!
Inspired by: Wuthering Heights by Emily Bronte (read online)
Buy it on Etsy
Time Machine Tie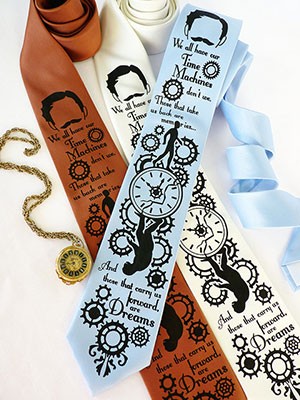 Inspired by H.G. Wells timeless classic, this silk tie is guaranteed to impress both science fiction fans and seasoned time travellers alike!
Inspired by: Time Machine by H.G. (Herbert George) Wells (read online)
Buy it on Etsy
'By the pricking of my thumbs, something wicked this way comes' quote bracelet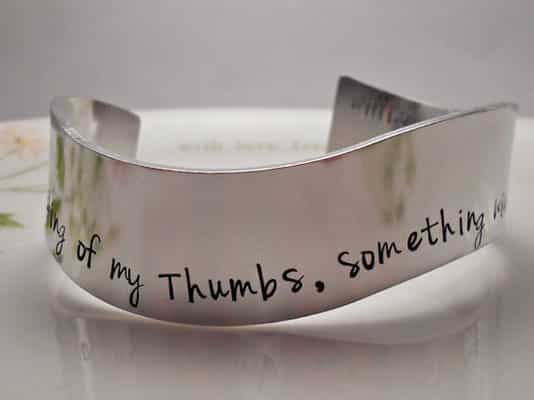 This famous Shakespeare quote from Macbeth reached its popularity when Agatha Christie borrowed it for her book title. This tongue-in-cheek hand-stamped wavy cuff bracelet has the power to bewitch a soul of any mystery and crime fiction fan.
Inspired by: Macbeth by William Shakespeare (read online)
Buy it on Etsy
Virginia Woolf canvas tote bag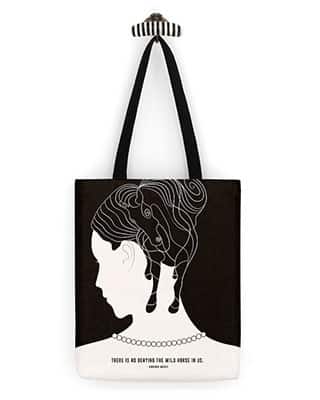 "There is no denying the wild horse in us." This quote inspired the artists to convey the dark depths of the human soul hidden within mind-boggling shapes. This elegant tote will appeal to both Virginia Woolf fans and other rebels at heart!
Inspired by: Jacob's Room by Virginia Woolf (read online)
Buy it on Etsy
Recycled Book Wreath, Upcycled Book Decoration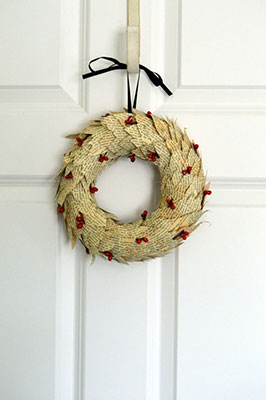 This festive piece of home decor will be welcomed by any bibliophile, who will be proud to showcase his love of books on his front door. This environmentally friendly wreath will add a warm cosy feeling to any dwelling!
Buy it on Etsy
Romeo and Juliet book scarf – William Shakespeare – Book Scarf – Romance – Capuleti – Montecchi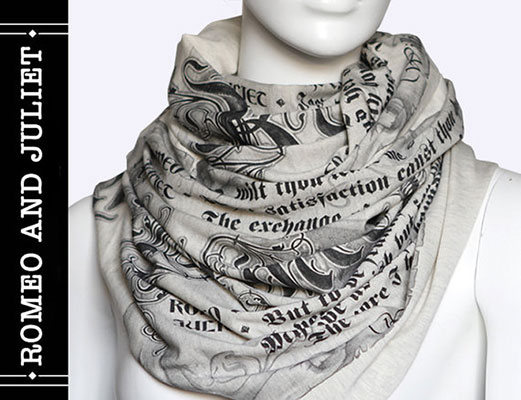 Looking for a gift that will leaving a lasting impression? Then look no further! Adorned with passages from "Romeo and Juliet", this handcrafted scarf is a perfect way to declare your love and melt the heart of that special one in your life.
Inspired by: Romeo and Juliet by William Shakespeare (read online)
Buy it on Etsy
Alice and the Cheshire Cat – Throw Blanket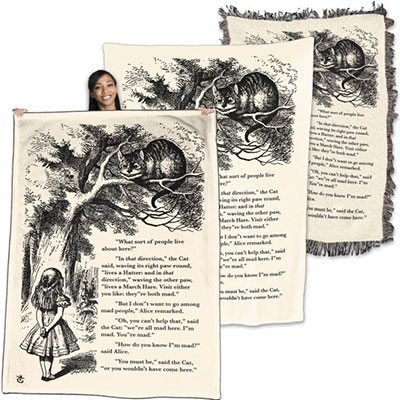 Wrap up in a good book and keep the chill out with this throw. Inspired by the famous dialogue between the devious Cheshire Cat and Alice, this iconic image is imprinted on a blanket that is available in three different fabrics. A true delight for those who like to fall asleep with a book.
Inspired by: Alice's Adventures in Wonderland by Lewis Carroll (read online)
Buy it on Etsy
Sherlock Holmes Stationery Set (8)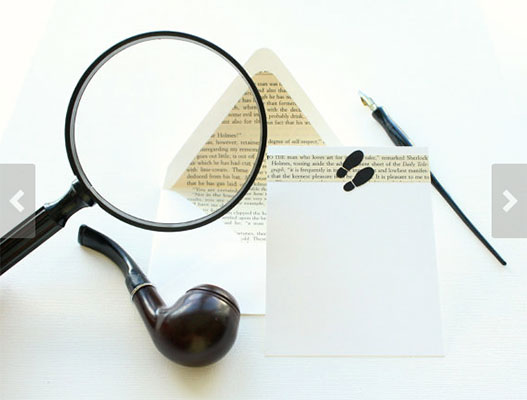 If the ideal present for your loved one is a mystery, then you know who to call. He is a London dandy, meticulous, insightful with occasional nostalgia that prompts him to play the violin. This Sherlock Holmes t-shirt set will bring out his inner sleuth. Mystery solved!
Inspired by: The Adventures of Sherlock Holmes by Sir Arthur Conan Doyle (read online)
Buy it on Etsy
Harry Potter Gryffindor Mens Red T-Shirt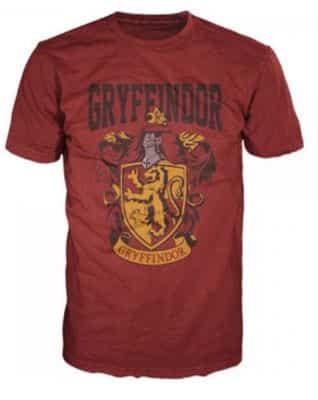 Hogwarts. Who hasn't dreamt of receiving an acceptance letter to the School of Witchcraft and Wizardry delivered by an owl? This T-shirt may not have the magical powers to teleport you to school, but will certainly allow you to display your affiliation with Gryffindor House. Charming gift for both pure bloods and muggle-borns alike!
Inspired by: Harry Potter series by J.K. Rowling (read online)
Buy it on Amazon
Hollow Vintage Book, Secret Trinket Key Safe Ring Box – Schiller Ornate Brown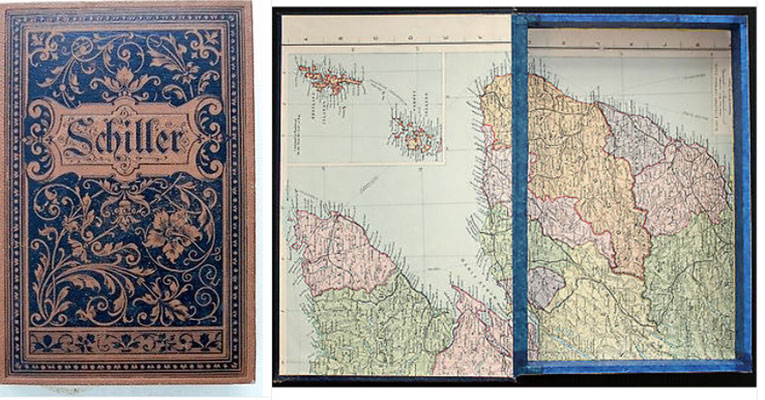 Ever thought of hiding your valuables, but never got around to find that secret place? Then you will like what this handmade vintage hallow book has to offer. Beautifully decorated, it will become the most treasured book on your shelf!
Inspired by: The Maid of Orleans by Friedrich Schiller (read online)
Tequila Mockingbird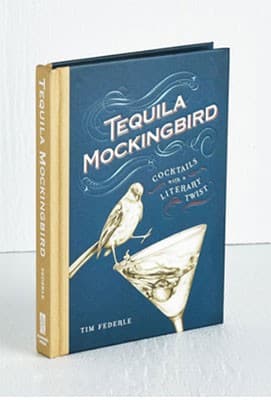 Book lovers rejoice! Entertaining your guests in style has just got easier! From Gin Eyre to the Wonderful Blizzard of Oz, this literature-inspired compendium of cocktail recipes will make you the talk of the town. A witty eye-opener for a fun-loving bibliophile.
Shakespearean Insults Mug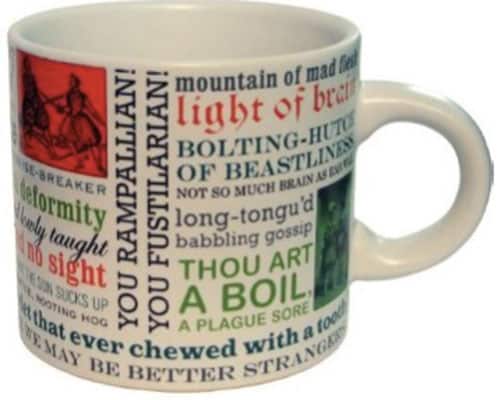 This full of surprises Shakespearean mug will bemuse the sharpest tongues! "Oh gull, O dolt, As ignorant as dirt" and "lump of foul deformity" are just a few among the funniest and most biting insults from the famous plays. An excellent gift for that discerning and hard to please bibliophile.
Inspired by: The Tragedy of King Lear by William Shakespeare (read online)
Buy it on Amazon
Personal Library Kit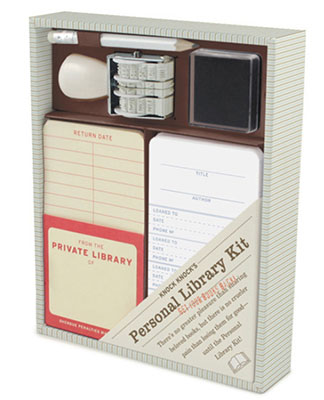 "There is no crueler pain than loosing books for good!" And if your beloved books that you lent to like-minded bookworms never found their way back to you, it's time to invest into a personal library kit, which reunites lost books with their happy owners! A real game-changer for book-sharing enthusiasts!
Buy it on Amazon
Leg bookmark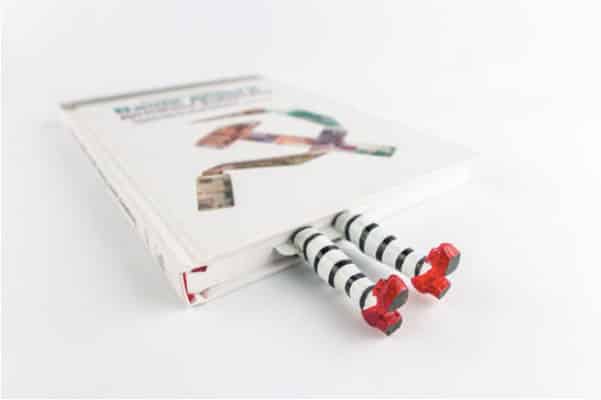 You should always look good in case you die in the middle of the book! This eye-catching bookmark will raise a smile even on the most cynical face. Makes a perfect ice-breaker too!
Buy it on Etsy
Banned Books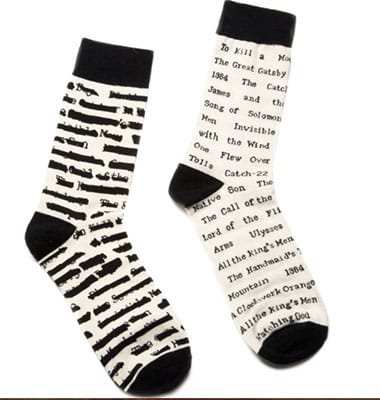 Banned books that caused quite a stir at some point in history became a source of inspiration for this censored pair of socks. Ideal gift for fearless readers with that mischievous twinkle in their eyes!
Inspired by: The Awakening by Kate Chopin (read online)

Buy it on Amazon

Stella
Stella is a Marketing Consultant and has been writing content for Full Text Archive since 2015. When she is not writing, she is meticulously planning our social and e-mail campaigns. Stella holds a bachelor's degree in English and Russian Literature, which has provided a broad foundation from which she continues to explore the written world.

She spends her free time reading, visiting old castles and discovering new coffee shops. She can be reached at stella