As summer draws to a close and chilly nights settle in, we can't help but reminisce about carefree sunny days spent at the seaside. Fond memories of spontaneous trips to the beach, long walks along the coast and melting ice-cream wash over us leaving us longing for that last celebration of eternal sunshine.
This August, we invite you to celebrate summer's last hurrah with our selection of twelve seaside novels that capture effervescent season in all its glory. From coastal mysteries and sizzling romances to seafaring adventures, there's something for every kind of reader.
The Retreat by Sarah Pearse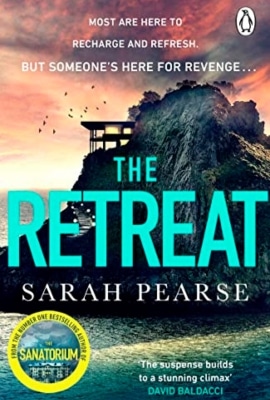 "Detective Elin Warner needs to attend an eco-wellness retreat on an island off the English coast. The retreat is meant to be for rest and relaxation but for one young woman it has ended with her losing her life. The island is known by the locals as Reaper's Rock and has a dark past, rumoured to be cursed due to a serial killer on the rampage.
The woman appears to have fallen to her death from the yoga pavilion but the victim wasn't a guest at the retreat and wasn't meant to be on the island at all. The following day a guest drowns in a diving incident and Elin starts to suspect that there's nothing accidental about these deaths. The question is why would someone target the guests, and is this just the start of the killings. The race is on for Elin to find the killer before more deaths occur and the history repeats itself."- Gary
Buy it on Amazon
Happy Place by Emily Henry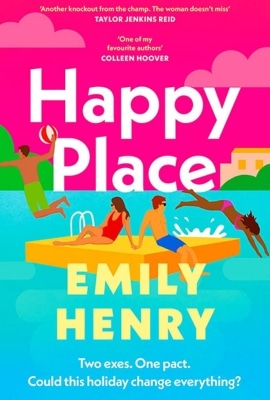 "Mattingley College in Vermont brings together best friends, Sabrina, Cleo and our narrator Harriet and now in the present day they're getting a little bit older they only meet once a year at their "happy place". This is Knotts Harbour a property owned by Sabrina's father where they kickback, relax and reconnect. This year though a "little deception" is planned as Harriet and Wyn who meet at college decide to pretend they're still engaged for the sake of their friends. Why you may ask? Why indeed, but then he isn't meant to be at Knotts Harbour this year so that's plan number one out window ! How will things play out? In addition, that's not the only surprise or shock either!
If you are an Emily Henry fan then you will know what treat lies in store for you and she doesn't disappoint. It's a good blend of the lighthearted fun and laughter with some heartache thrown in for good measure."- CeeCee
Buy it on Amazon
Captain Blood by Rafael Sabatini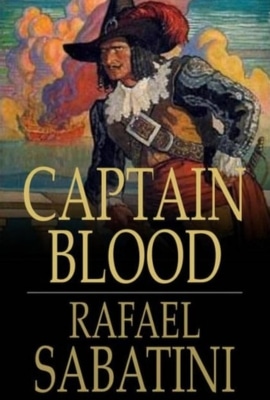 "Doctor Peter Blood has settled down in Bridgewater to a quiet life of contemplation while tending to his geraniums when he is summoned to help the wounded rebels who have been fighting against the forces of James II. Soon he is captured, brought to justice and is sentenced to hang. His sentence, along with his fellow "conspirators," is commuted to transportation to the crown's plantations in the Caribbean.
Once in Barbados, Blood proves his worth as a doctor, which gives him more freedom of motion than his fellow slaves. The overseer's daughter, Arabella Bishop, learns of his plight and develops sympathetic feelings towards Blood. He and some of his friends escape the island and fall in with pirates. Blood is an intelligent man, and it doesn't take long for his pirate brethren to discover his value as a tactician and learn to respect his courage. He is soon elevated to the captaincy, and thus begins the bloody reign of Captain Blood, held only in check by his own adherence to a conscience."- J. Keeten
Read it Free Here
Buy it on Amazon
One of The Girls by Lucy Clarke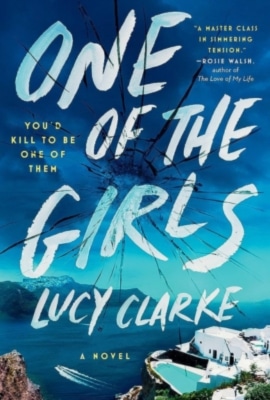 It was supposed to be the perfect weekend away. Six very different women travel to a sun-soaked Greek island for a bachelorette trip, to celebrate Lexi's upcoming wedding. From the glorious ocean views to the quaint tavernas and whitewashed streets, the vacation seems too good to be true. But dangerous undercurrents run beneath the sunset swims and midnight cocktails – because each of the women is hiding a secret. Someone is determined to make sure that Lexi's marriage never happens – and that one of them doesn't leave the island alive.
Gripping, twisty, and full of sun-soaked suspense, this timely thriller examines the joys of female friendship…as well as the deadly consequences when a relationship goes wrong.
Buy it on Amazon
Treasure Island by Robert Louis Stevenson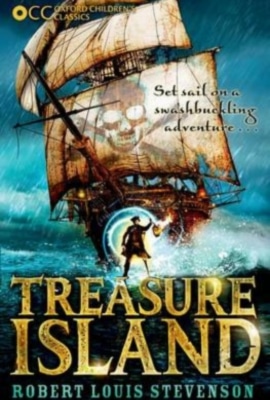 Anyone who has ever felt a desperate urge to escape the reality to a faraway land, will enjoy this captivating tale of "buccaneers and buried gold". Set in the tropics, the story unfolds when a young innkeeper Jim Hawkins comes into possession of an old treasure map. Accompanied by a seasoned captain Smolett, heroic Dr. Livesey and other crew members, he sets off on a great sailing adventure in his bid to recover the dead man's riches. However, it is not long before the voyage turns into a treacherous journey unveiling the true intentions of mutineers aboard the Hispaniola. From half-mad to outright dangerous, the "gentlemen of fortune" are yet to teach young Jim some timeless lessons about trust, kindness and honour, he is less unlikely to forget.
Read it Free Here
Buy it on Amazon
The Summer Book by Tove Jansson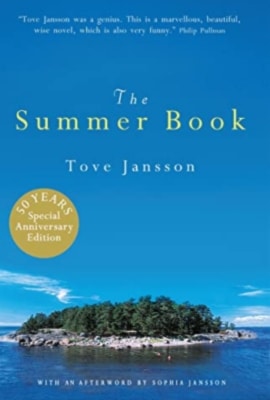 An elderly artist and her six-year-old granddaughter while away a summer together on a tiny island in the gulf of Finland. Gradually, the two learn to adjust to each other's fears, whims and yearnings for independence, and a fierce yet understated love emerges – one that encompasses not only the summer inhabitants but the island itself, with its mossy rocks, windswept firs and unpredictable seas.
Full of brusque humour and wisdom, The Summer Book is a profoundly life-affirming story. Tove Jansson captured much of her own experience and spirit in the book, which was her favourite of the novels she wrote for adults.
Buy it on Amazon
Persuasion by Jane Austen
Twenty-seven-year old Anne Elliot is Austen's most adult heroine. Eight years before the story proper begins, she is happily betrothed to a naval officer, Frederick Wentworth, but she precipitously breaks off the engagement when persuaded by her friend Lady Russell that such a match is unworthy. The breakup produces in Anne a deep and long-lasting regret. When later Wentworth returns from sea a rich and successful captain, he finds Anne's family on the brink of financial ruin and his own sister a tenant in Kellynch Hall, the Elliot estate. All the tension of the novel revolves around one question: Will Anne and Wentworth be reunited in their love?
Read it Free Here
Buy it on Amazon
The Beach by Alex Garland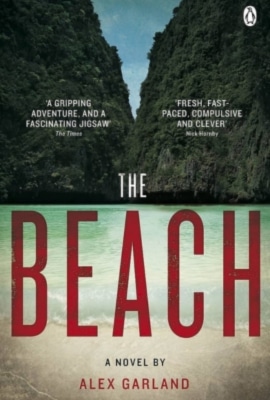 Rumours of a Thai utopia, the secret location of which can only be disclosed to a chosen few, have been circulating among backpackers for decades. In search of his slice of paradise, a young English traveller Richard joins forces with two fellow explorers to venture into unchartered waters of East Asia. Soon they discover a breathtaking island that seems to offer infinite freedom and a chance of a fresh start. However, when isolation, social anxiety and hallucinations take the better of Richard, his newly found Shangri-La turns into a trap more terrifying than he could possibly have foreseen.
Buy it on Amazon
Uncle Paul by Celia Fremlin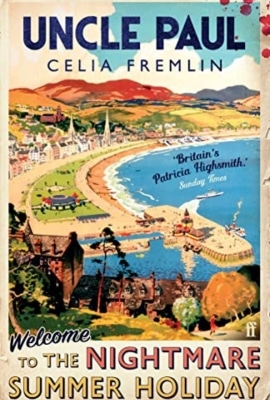 "Meg and Isabel were just girls when 'Uncle Paul' married their older half sister, Mildred. He soon disappeared from their lives, when he was exposed as a bigamist and murderer and imprisoned.
Fifteen years later 'Uncle Paul' is about to be released and all three sisters are dreading the prospect. The family holiday at the seaside village where Mildred and Paul once honeymooned becomes the setting for a tense drama, full of suspicion, betrayal and revenge. With a vintage postcard cover, it's a re-issue from the 19050s – perfect for any fan of Patricia Highsmith or Daphne Du Maurier, Celia Fremlin is described as the grandmother of psycho domestic noir. A slow burning chiller, full of witty observations and well-drawn lively characters."-GLIAB
The Old Man and The Sea by Earnest Hemingway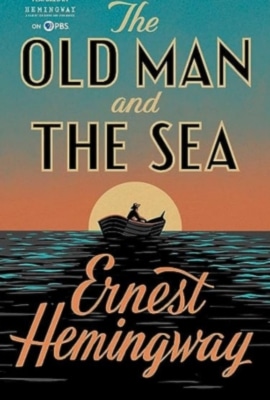 One of the most powerful novellas ever written, The Old Man and the Sea represents Hemingway's last literary gem published during his lifetime. Inspired by real events, the story is centred around a Cuban fisherman Santiago who is considered to be cursed failing to catch a fish for weeks. In his strive to redeem himself, the old man ventures into the Gulf Stream where he encounters the largest marlin he has ever seen. The next few days can only be described as an agonising battle to bring the marlin to the market in one piece. By the time Santiago reaches the shore, the giant fish has been devoured by sharks leaving nothing but a skeleton as a reminder of the fisherman's stoicism and courage.
The Age of Innocence by Edith Wharton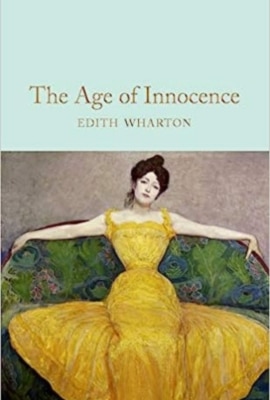 Winner of the 1921 Pulitzer Prize, The Age of Innocence is Edith Wharton's masterful portrait of desire and betrayal during the sumptuous Golden Age of Old New York, a time when society people "dreaded scandal more than disease."
This is Newland Archer's world as he prepares to marry the beautiful but conventional May Welland. But when the mysterious Countess Ellen Olenska returns to New York after a disastrous marriage, Archer falls deeply in love with her. Torn between duty and passion, Archer struggles to make a decision that will either courageously define his life—or mercilessly destroy it.
Read it Free Here
Buy it on Amazon
Rebecca by Daphne du Maurier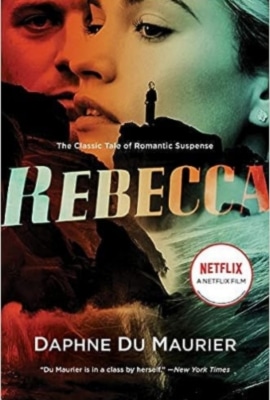 This blood-curdling tale of terror represents a recollection of chilling events that took place in the isolated country mansion in Cornwall. As the young bride of Maxim De Winter assumes her new responsibilities, she receives a cold reception from Mrs Danvers, a sinister housekeeper who goes to great lengths to preserve the distant memory of the former mistress of the house. The remote coastal setting contributes to the feeling of unease and imminent danger for Mrs de Winter filling her with the suspicion of foul play.
Buy it on Amazon

Stella
Stella is a Marketing Consultant and has been writing content for Full Text Archive since 2015. When she is not writing, she is meticulously planning our social and e-mail campaigns. Stella holds a bachelor's degree in English and Russian Literature, which has provided a broad foundation from which she continues to explore the written world.

She spends her free time reading, visiting old castles and discovering new coffee shops. She can be reached at stella